Commercial Kitchen Exhaust Cleaning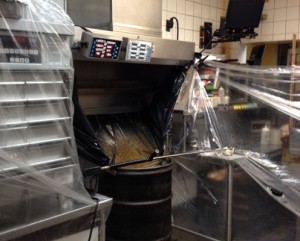 Commercial kitchens are cleaned and degreased according to NFPA 96 fire code regulations by ASTTBC certified technicians.
Our cleaning process includes chemical cleaning and pressure washing with hot water or steam, depending on the circumstances.
We remove the grease from the exhaust fan, the ducting, the kitchen canopy and the hood filters using pressures up to 3000 psi and heated water up to 270 degrees fahrenheit.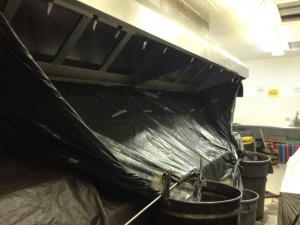 A containment system is set up in the kitchen, all cooking surfaces, appliances and walls are covered with tarps and plastic.    Waste water from the duct cleaning and kitchen canopy cleaning is captured in the kitchen.  After the solids are removed the remaining water must be neutralized to Ph of 7 with vinegar before it is disposed of  through your grease trap into the sanitary sewer.  Off site disposal is available by request and at added cost.
The exhaust fan and hood filters are cleaned with pressurized hot water.  No cleaning chemicals are used outside that can be lost down the storm sewer system.