Exterior Pressure Washing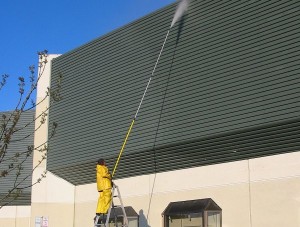 Keeping your buildings exterior clean is one way to bring in new customers.
Restaurants, Hotels and most every commercial property is more appealing to new customers when the awnings, signs and entranceways are kept clean.  Pressure washing these areas at least once a year prevents the dust and particulates from getting to the point where they are noticable.  We only use environmentally safe soaps, when they are needed at all.   Pressurized and  heated water gets most of the dirt off.  Awnings need to be cleaned with a soap brush attachment and then rinsed with low pressure water to prevent damage to seams.   Much the same procedure is used on some stuccos.  We are always careful to use the proper cleaning procedure for the surface being cleaned.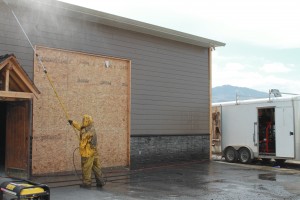 Sidewalks outside entranceways often have gum stuck to the cement.   Our hot water pressure washers remove gum easily.   Once cleaned the concrete can be sealed for added protection.