Automatic Fire Suppression Systems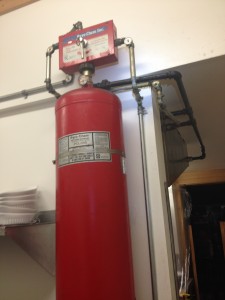 New Installations of Automatic Fire Suppression Systems
 
When VICS Fire & Safety Installs your Automatic Fire System you can be sure it's done right.   Because we also clean Commercial Kitchen Canopies we know how best to  install your new fire suppression system so it doesn't end up like the picture below.   We had to replace a detection line because it had been installed in an area not visible to the commercial exhaust cleaning company.  Apparently they didn't know enough to look, or didn't bother.
 
Automatic Fire Suppression System Upgrades
Any time changes are made to the cooking line, and at least once every 12 years, automatic fire suppression systems need to updated to meet fire code regulations.   This service  can be a simple addition of detection and protection or it can involve adding a larger tank and new control head.    At least once every 12 years the wet chemical tank needs to be hydrotested, the detection and protection lines need renewed, as well as any additional changes that may be required to meet current fire code regulations.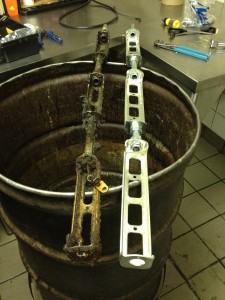 Automatic Fire Suppression System Testing
 We are the only company in the BC Interior capable of testing your automatic fire suppression system at the same time as we clean your Kitchen Exhaust System.  Because the service intervals tend to be identical, it is easy to have both jobs done at the same time by one company.  You will save time and money.   Because we cean the hood at the same time, the filters are out, your equipment is covered, and the components have been cleaned.  Testing is done more efficiently and we pass that time savings on to you.  It can mean up to a 30% savings off your current bill for Automatic Fire System Testing.  Twice a Year!!!